Report on the 1st virtual meet-up event of the ISPRS WGII/9 – Underwater Data Acquisition and Processing, 8-9 June 2021
July 13, 2021
The 1st virtual meet-up event of the ISPRS WGII/9 – Underwater Data Acquisition and Processing, took place on 8-9 June 2021. It was jointly organized by Fabio Menna (Bruno Kessler Foundation), Mark Shortis (RMIT University), Dimitrios Skarlatos (Cyprus University of Technology) and Panagiotis Agrafiotis (National Technical University of Athens).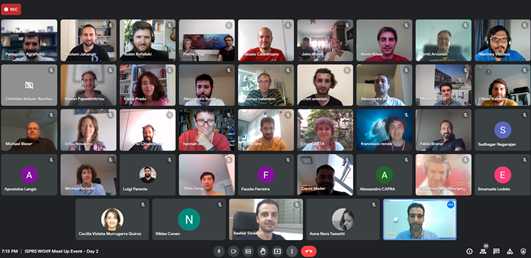 In the event, which attracted many new members to register to the working group, participated 83 out of 113 members registered on the WG webpage. The event provided an update on the research activities of the WGII/9 members by hosting 34 presentations (final program here), followed in 21 different countries around the globe. An informal but very informative discussion was also held using SLIDO. Questions were answered live by the speakers. Also, the SLIDO Q&A was kept open after the sessions and participants continued the discussion even after the live event, showing again a strong interest in the topics of the WG. 
Photogrammetry was the main research area of the participants representing 71% of them for both days while Computer Vision, Camera Calibration and Surveying were following with percentages between 48-40%. Participants specializing in Robotics represented the 30% of the participants while experts in Engineering, Hydrology, Oceanography, Navigation, Geology, Archaeology, Biology and the industry participated too. The SLIDO Q&A indicated also that the vast majority of the participants is highly interested in benchmark datasets related to the scientific areas of the research group, however, most of them are not able to deliver any data. This triggered a data collection and sharing initiative by the WG that will be soon published in the WG's webpage. 
The recorded videos of the event can be found at the following links: Day 1 and Day 2 or on the YouTube channel here : Day 1 and Day 2
---
WGII/9 – Underwater Data Acquisition and Processing virtual meet-up event on 8-9 June 2021
May 5, 2021
The WGII/9 working group chairs would like to invite you to the ISPRS WGII/9 members virtual meet-up on 8-9 June.
The event is open to the members of the working group and to anyone who shares the same passions and interests for our research topics and mission. New members are therefore welcome to join the working group and participate in the event.
The main aim of the virtual meet-up is to give anyone the opportunity (if they like) to present themselves and their research group through a short pitch presentation (2-3 mins max) related to the ISPRS WGII/9 topics.
For those who are very enthusiastic about it and want to provide a deeper dive into their projects, research experiences and outcomes, please send us an abstract of the talk (max 7-10 minutes) possibly with some figures. We will do our best to guarantee to anyone room for sharing their experiences.
To facilitate the participation across different countries and time zones we will try to find hours that maximize the attendance. That is why we will split the meeting in two different days with a maximum duration of 4 hours per day (depending on the number of registrations ). Being together in the same moment across the world will of course require some flexibility. The tone of the event is very informal, therefore feel free to put yourself at ease anywhere you like and enjoy the meeting.
To participate in the event a registration is mandatory, so please send an email to fmenna@fbk.eu before May 31st to let us know if you would like to participate with a pitch presentation or give a longer talk.
---
Special Issue "Underwater 3D Recording & Modelling" in MDPI Remote Sensing
October 13, 2020
The Special Issue collected some of the best research papers presented during the 2nd edition of the workshop 'UNDERWATER 3D RECORDING & MODELLING' organized in Limassol (Cyprus) on May 2–3, 2019. Submission closed July the 30th 2020, more than 10 papers were collected therefore a printed version will be available soon.
---
ISPRS 2020 Virtual Congress
September 3, 2020
From the 31st of August to the 2nd of September, the virtual event of the ISPRS 2020 presentations took place! 14 papers in total were published under the Commission II, WGII/9 while three of those were presented in live talks or pre recorded videos. 3 of them in ISPRS Annals and the rest 11 in ISPRS Archives. Check the presentations here.
---
Tutorial "Introduction to underwater photogrammetry" at ISPRS Nice 2021
May 15, 2020
This tutorial aims at providing the audience with an introduction to the crucial aspects of underwater photogrammetry, as a key technique for studying and understanding the underwater world in many application fields, such as exploration and mapping, industry, metrology, archeology, biology, etc. Resources that will be distributed: all the teaching material (i.e. the PowerPoint presentations, image datasets).
Target audience: PhD students, researchers and practitioners
Level: beginner to intermediate
---
ISPRS 2020 Congress is postponed to July 2021
March 26, 2020
New key dates here
New conference registration, publication fees for author and cancellation & refund infos here
---
Tutorial on Underwater photogrammetry applied to Cultural Heritage
September 1, 2019
Location: Higher Polytechnic School of Ávila, Spain
The tutorial was organized in the context of 27th International CIPA symposium and explained the main difficulties caused by the underwater environments in the photogrammetric approach and how experts deal with those. Topics discussed by Assoc. Professor Dimitrios Skarlatos and Mr. Panagiotis Agrafiotis included: Underwater cameras calibration, the gap between in-water and through-water photogrammetry, control points network setup, measurement and adjustment, equipment and Image acquisition, underwater image colour enhancement and SfM-MVS processing. The theoretical part, partic was followed by a practical session for processing a real case scenario. The tutorial was attended by 12 participants.
---
Tutorial on High accuracy 3D measurement and modelling of corals
August 28, 2019
Location: UC Berkeley Gump Station, Moorea, French Polynesia
The tutorial was organized as part of the activity of the Moorea IDEA project and gave an introduction into actual photogrammetric techniques for the 3D measurement and modeling of corals. These 3D models can serve a number of purposes in Biology and Ocean Science. The complete photogrammetric data acquisition and processing pipeline was discussed with the support of data collected in the Moorea AVATAR project. The tutorial also gave a practical overview of deep learning by Neural Network technology for classification/segmentation of corals. A demonstration of a new semi-automatic labelling tool was also given.
Prof. Armin Gruen, Prof. Alessandro Capra, Dr. Erica Nocerino, Dr. Fabio Menna, Ms. Gaia Pavoni, active members of the WGII/9 were involved in the tutorial presentations, scientists from Gump and CRIOBE, the two research stations in Moorea attended the tutorial.
---
2nd International Workshop ISPRS/CIPA workshop UNDERWATER 3D RECORDING & MODELING
May 15, 2019
The 2nd UNDERWATER 3D RECORDING & MODELING workshop supported by ISPRS and CIPA, was held at Cyprus University of Technology facilities in Limassol, Cyprus from May 2nd to the 3rd, 2019. The organizing committee was Dimitrios Skarlatos (Cyprus University of Technology), Panagiotis Agrafiotis (Cyprus University of Technology and National Technical University of Athens), Marinos Vlachos (Cyprus University of Technology), Erica Nocerino (AMU Marseille and ETH Zurich), Fabio Menna (COMEX Innovation) and Fabio Bruno (University of Calabria and 3D Research srl.). The workshop was sponsored by 3D Research s.r.l., iMARECULTURE H2020 EU project, COMEX Innovation and Geosysco Ltd., which had booths demonstrating services and equipment.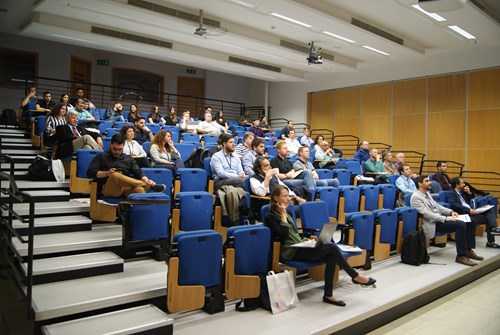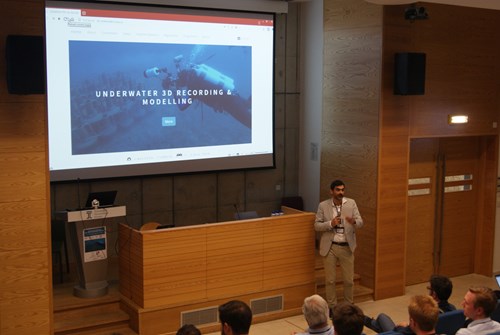 The workshop was attended by 56 individuals from 13 different countries. Of the 33 submitted abstracts, 26 were selected for publication, 19 for presentation, and 7 for posters. Three keynote speakers set the tone for the topics throughout the conference. Rafael Garcia and Nuno Gracias from the University of Girona, (Underwater Vision and Robotics group) started the conference off presenting the current state of the art in Omnidirectional Underwater Computer Vision Research and Applications at the University of Girona. The next day, Fabio Bruno from University of Calabria and 3D Research srl. presented his speech on "Exploring underwater sites through virtual and augmented reality". The selected papers for publication are published in The International Archives of the Photogrammetry, Remote Sensing and Spatial Information Sciences under Volume XLII-2/W10, 2019.
The workshop was a success, as was noted by the attendance right up until the last paper was presented. The decrease in number of participants, in comparison to the equivalent event in 2015 at Sorrento, is not related to decrease in interest in the topic of precise underwater 3D modelling, as there is an increasing number of versatile applications, such as biology, engineering, ecology, archaeology, VR, etc.
---
MoLaS 2018 - Mobile Laser Scanning Technology Workshop
October 22, 2018
The Third International MoLaS workshop is organized by Fraunhofer IPM and will take place on November 14-15, 2018 in Freiburg (Germany). The workshop focuses on technological trends in mobile laser scanning. Twelve internationally renowned experts will present key technology drivers and future applications in the field of 3D mapping with mobile laser scanners. Four sessions cover the entire spectrum of laser scanning technology:
Sensors
Calibration
Data interpretation and visualization
Applications (special focus on underwater laser scanning)
---
2nd International Workshop UNDERWATER 3D RECORDING & MODELLING
June 6, 2018
The 2nd International Workshop UNDERWATER 3D RECORDING & MODELLING -  A tool for modern applications and CH recording will take place at the Cyprus University of Technology facilities. The organizing committee is looking forward to welcome researchers, practitioners and companies in the field of UW photogrammetry, computer vision, image processing, VR and AR as well as archaeologists to present and discuss their results and activities. The event follows on from a successful ISPRS/CIPA workshop held in 2015 in Sorrento (Italy), first on this topic and is aiming to bring together researchers, users and interested persons in the field of underwater 3D surveying (photogrammetry, bathymetry, etc.), Virtual and Augmented reality. The event will feature 2 days of technical sessions and invited talks, oral presentations, posters and demos.
---
ISPRS Technical Commission II Symposium 2018 "Towards Photogrammetry 2020"
May 12, 2018
ISPRS Technical Commission II Symposium 2018 "Towards Photogrammetry 2020" focuses, at various scales, on geometric, radiometric and multi-temporal aspects of image- and range-based 3D surveying and modeling. The Symposium will be held in Riva del Garda, Italy from 3 to 7 June 2018. Among others, Technical Sessions of the WG II/9 - Underwater Data Acquisition and Processing will take place.
The event is organized in collaboration with SIFET (Italian Society of Photogrammetry and Topography), JSPRS (Japan Society of Photogrammetry and Remote Sensing) and ARIDA (Japanese Association for Real-time Imaging and Dynamic Analysis).
---
Research infrastructure OTC Rostock - Open Discussion
December 1, 2017
Open discussion on LinkedIn for the establishment of a research infrastructure for efficient testing of underwater technologies as core of the prospective Ocean Technology Center Rostock, Germany
---
WG II/9 Linkedin group
December 1, 2017
If you are interested and want to stay tuned on WG II/9: Underwater Data Acquisition and Processing news and initiatives, please subscribe here and join the LinkedIn group for interacting and exchange knowledge.
---
METROARCHAEO2017 - Special Session
April 26, 2017
"3D imaging for underwater cultural heritage" session at MetroArcheo2017 Lecce, Italy 23-25 October ,2017
METROARCHAEO2017 is conceived to foster exchanges of ideas and information, make connections and collaborations, update innovation on "measurements" suitable for Cultural Heritage among material scientists, chemists, physicists, engineers, archaeologists, conservators, restorers, etc..
3D imaging for underwater cultural heritage session gathers contributions related to techniques, methods, sensors and systems used for surveying, digitizing, documenting and monitoring underwater cultural heritage.
---
Marine Imaging Workshop 2017
February 09, 2017
The Marine Imaging Workshop (Kiel, Germany 20 - 24 February 2017) follows on from a successful 2014 workshop, and invites anyone using visual imagery in the marine realm: scientists, engineers, researchers, regulators, and industrial partners. The focus will be on developments and challenges in methods of marine optical imaging: imagery acquisition, processing and manipulation, annotation, segmentation and automated strategies, data management, application to scientific aims, and outlook and future developments.
---
3D ARCH 2017 - Special Session
February 01, 2017
UNDERWATER 3D RECORDING & MODELING session at 3D-ARCH 2017 - Nafplio, Greece 1 - 3 March
the session follows the  ISPRS/CIPA Workshop "Underwater 3D recording & Modeling" held in 2015 in Piano di Sorrento.
3D-ARCH is a series of international workshops which started in 2005 in Venice and move throughout the years to Zurich (2007), Trento (2009, 2011, 2013) and Avila (2015), organized as an ISPRS and CIPA event.
---
UNITWIN Workshop
February 2, 2017
3D Modeling and Interpretation for Underwater Archaeology was held at Flinders University in Adelaide, South Australia during 24-26 November 2016. The workshop was sponsored by UNITWIN, ISPRS and some industry organisations. UNITWIN is a UNESCO initiative to promote inter-university cooperation in fields of relevance to UNESCO.
This workshop brought together leading international experts and experienced practitioners working in 3D applications for underwater archaeology. The majority of speakers and participants were archaeologists from Europe, Asia and Australia who were using a variety of mapping techniques, including photogrammetric, acoustic and lidar. Many of the presentations demonstrated the effectiveness of Structure from Motion solutions, but also identified some of the challenges to ensure accurate and complete 3D models.
The organisers are planning a book containing the highlights from the workshop, to be published in late 2017 or early 2018.
WG II/9